Description
Sugarcane, or kō in Hawaiian, Saccharum officinarum, is an impressive multipurpose perennial clump grass. This plant has been cultivated for thousands of years around the world and was brought to Hawaii long ago as a canoe plant of the Polynesian migrants. (For more information on sugarcane as it specifically relates to Hawaii, check out: https://cms.ctahr.hawaii.edu/cane/.)
Depending on variety, sugarcane can vary widely in size and stature; some of the more common types grow on average to twelve feet tall by two inches in diameter, with the clump about six feet wide. Not only is sugar cane one of the most efficient known photosynthesizers, some varieties even fix their own atmospheric nitrogen in association with the bacterium Gluconacetobacter diazotrophicus living in the stem!
Sugarcane is a perfect permaculture plant in the tropics; as an easy indicator of soil fertility, it can be grown up quickly as a windbreak and provides ample amounts of biomass. When the canes and leaves of sugarcane are chopped and applied as mulch, the result is an amazing fertilizer. As it decomposes, the nitrogen and sugars in the stem are released, supporting more green leafy growth, as well as beneficial microorganisms in the soil. Silica is also returned and made available, aiding and improving surrounding plants' defense mechanisms and enhancing plant water translocation.
Sugarcane is traditionally used for sweetening medicines, as an anti-bacterial for wounds, and of course, juicing and processing into sugar. It's edible and it's medicine, too. I didn't even mention the diversity and beauty! What a cool plant!!!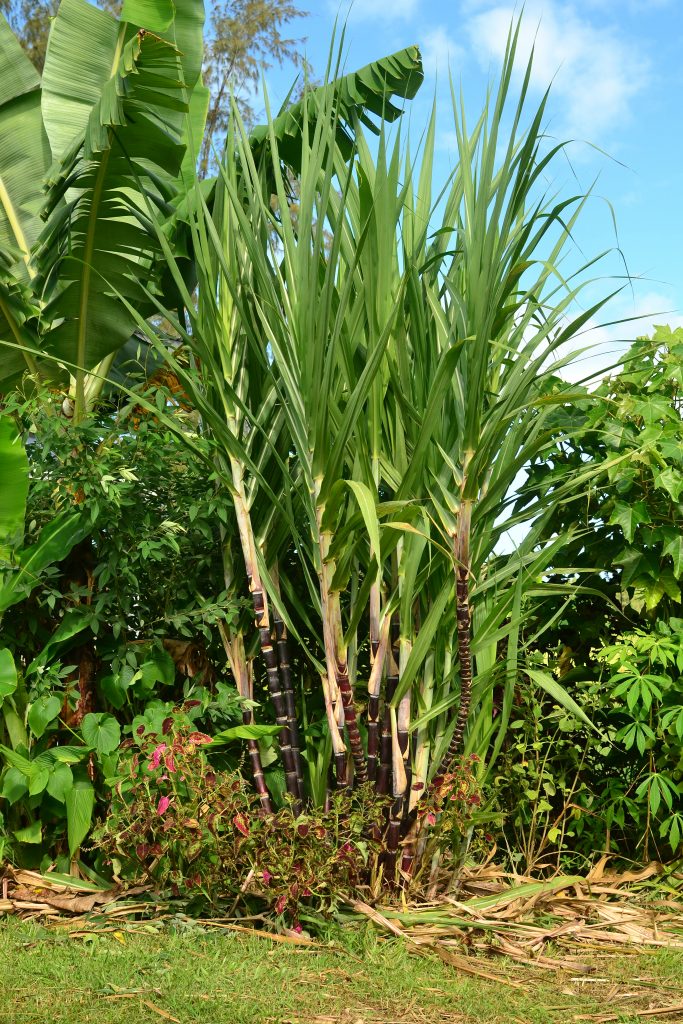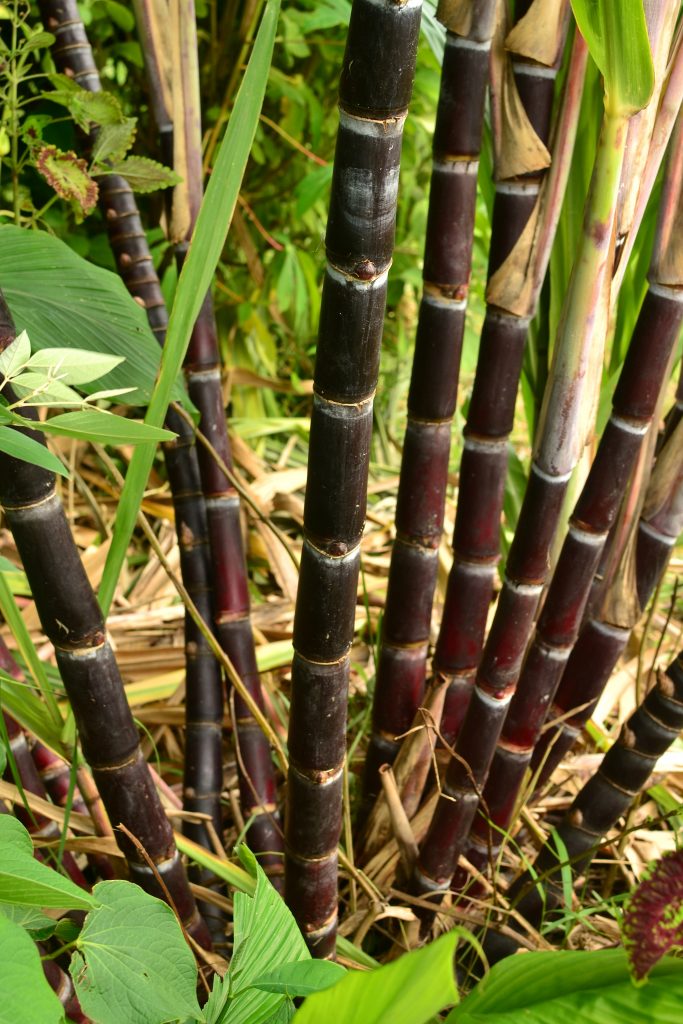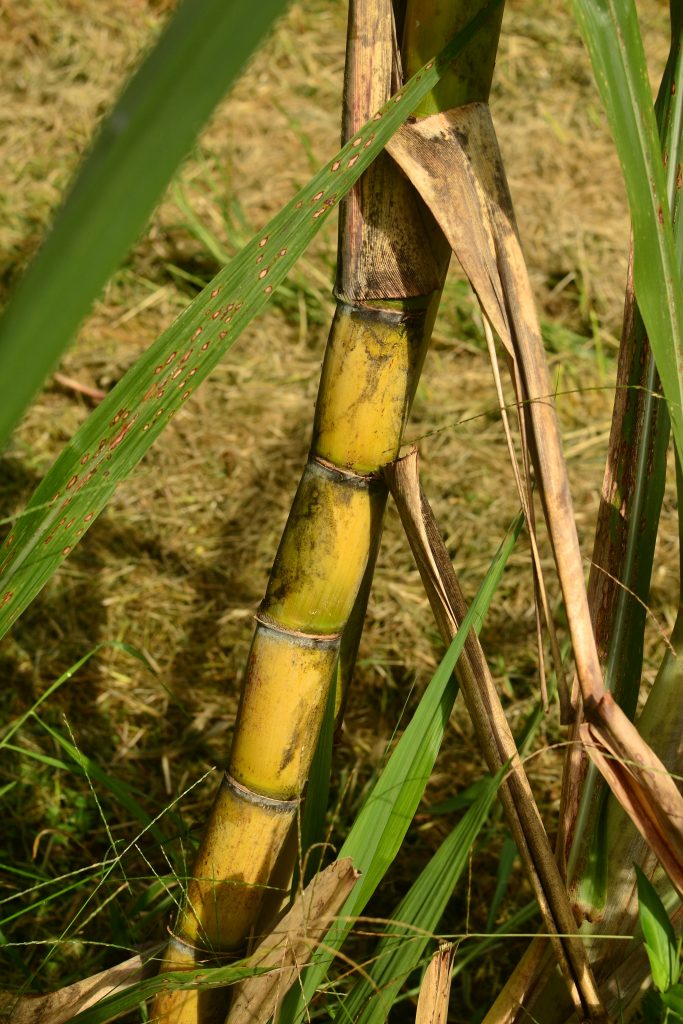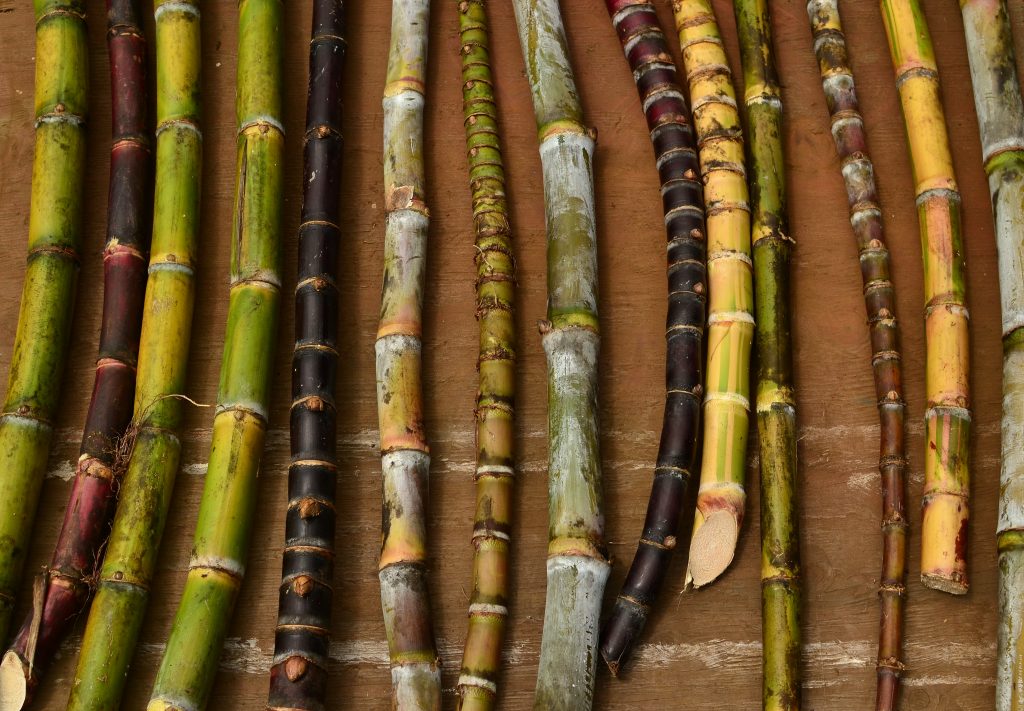 Propagation
Although mature clumps sometimes produce seed, sugarcane is typically propagated from cuttings. Take a stem with at least two to three nodes and bury it horizontally. Another option is to partially bury it at a 45-degree angle into the soil, making sure some nodes are under the soil surface. Typically, the highest portion of the stem is used for propagation, while the lowest part containing the most sugars is processed for consumption.
Care
This plant loves sun, rain and is quite hungry. Plant in fertile soil and/or feed regularly for maximum production.
I maintain my plants as upright clumps only. Once canes begin to sprawl too much toward the earth, I cut down for mulching, propagation or consumption. I find leaving a tidy patch for easy maintenance is most beneficial. I also periodically remove spent leaves from canes to expose their beauty and mulch their beds.
Expect anywhere from nine months to two years before the first harvest. To ensure as much sugar energy is left in the cane as possible, harvest the plants before they flower (typically November and December in Hawaii). Sugar is concentrated in the lower portion of the cane.
Sugarcane is commercially harvested two to three times then replanted. However, with proper management, a clump can be grown for 10 years (or more) before replacement.
Eating
The easiest way to enjoy sugarcane is to divide into node sections and remove the thick outer skin of the cane. The inside is chewed to release the juice; fiber should be spit out/composted.
Sugarcane juice is obtained by pressing canes. Further processing and drying will result in crystallized or granular sugar.
Unopened flowers are edible raw, steamed or toasted. Unfolded leaves are edible cooked.
Where to obtain planting materials
Sugarcane is everywhere! Sugarcane is regularly available at many plant sales, and is often naturalized in wild places. There are also a handful of collectors/enthusiasts around who share their specimens readily.
My Garden
Sometimes I overlook plants' qualities, and until I'm actively cultivating that plant, I don't fully appreciate the species. Sugarcane is a perfect example. It's on the road everywhere, and it was in my first garden in Hawaii before I moved in. So, I allowed it to grow and ate it a few times. It wasn't until one of my friends brought me over to his place that I truly recognized the diversity in colors, shapes and robustness. He's always trying to share his collections' diversity; just in case he loses any, he'll know where to find them, again. As an individual who always wants to promote biodiversity and sharing, I gladly accepted a number of sugarcane cuttings and planted them in my own garden. It was only this month that I recognized and appreciated the unique attributes that I described above, and realized the importance of this species in a tropical cropping system. This is one of the first pioneer plants that should be planted in a system to feed the soils to allow for greater cropping capability for future plantings. It makes sense why this plant has been cultivated for generations as a biomass, protection crop and fertility builder. Grow sugarcane!
Happy Gardening!