Description
The Hawaiian Hot Pepper, Capsicum frutescens, is the classic local hot pepper. These peppers are quite small, but hold a perfect punch of heat. Plants are prolific five foot tall shrubs that live for two to three years and produce an amazing abundance of fruits. This pepper is most Hawaiian gardeners' go-to pepper, as it's always available to quickly grab and add to any dish. Hot peppers are nutritious and good for our general health, due to their antioxidant, anti-inflammatory, and endorphin-releasing properties. This is the pepper added to make "chili peppa watah," a traditional Hawaiian condiment.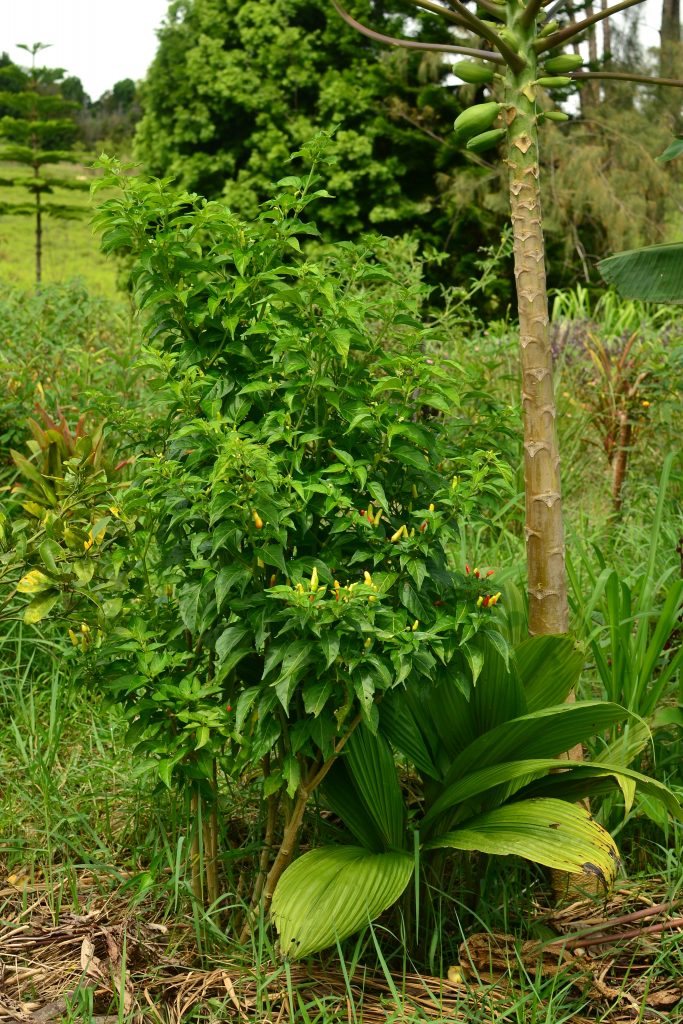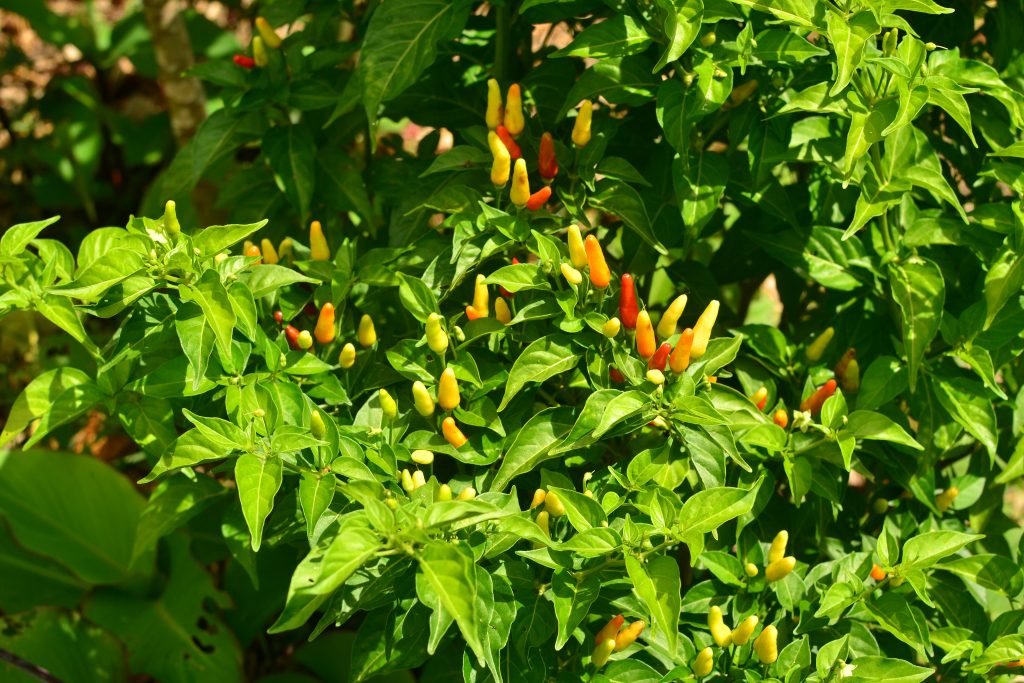 Propagation
Hawaiian Hot Peppers are grown from seed. Simply open up a pepper and scrape out the seeds. Either cover very lightly with potting soil or surface sow. (Check out my seed propagation entry for more info.) Typically, peppers are slow at the start of their life; after a few weeks in the nursery, they start growing rapidly. I usually add five to ten seeds per pot and cull them as they reach two to three inches in height. I leave only one pepper plant per pot and then transplant to the garden after they are about five inches tall. At this stage, plant them in the garden as close to the kitchen as possible.
Care
Once established, these plants are extremely hardy and can pretty much grow on their own. They like as much sun as you can give them, but will do fine with partial sun. Regular harvesting promotes more fruit set, as does regular fertilizing. Fruit flies and/or pepper weevils can be a bit of a problem with peppers; to reduce losses from insects, harvest peppers when turning orange and allow them to sit a day or two to turn red before consumption. (I eat them orange sometimes as well.) They can also be pruned heavily and tend to re-sprout just fine.
Eating
In my opinion, one pepper per person in a meal is the perfect heat level. When I make large batches of salsa, I use two Hawaiian Hots, and one for a small batch.
Where to obtain planting materials
These peppers are regularly sold at nurseries, or you can buy some peppers from the farmers' market and plant those seeds. Everyone should grow this pepper!
My Garden
I've grown Hawaiian Hot Peppers for over four years. This past year, I trialed over twenty different pepper varieties; the Hawaiian Hot still persists as one of my choice peppers, as they seem to be the least affected by fruit flies and almost always have fruit available for consumption. They become strong, sturdy bushes and can hold their own against competing vegetation. I like to keep three or four pepper plants close to the kitchen and have more in other places further away. Peppers are, in fact, one of my most used ingredients in the kitchen. They are so easy to grow, it's almost insane not to grow them yourself! Peppers are quite ornamental as well, so they add a splash of beauty in any location. Grow them, eat them, and share your overabundance!
Happy Gardening!